What do you cherish?
 What was I born for?
 What should I do while I live?
 Through so many troubles and miseries

 But sometimes I can find happiness in my life
 Which gives me the power to live
 And enjoy living my life

 I wish we can share that kind of feeling by playing this game.
 And if you had ever felt this way but have forgotten somewhat,
I wish now is the time for you to remember and express it in your "Planet".





 "The Talk" is a CGG(Consumer Generated Game) which not only you can create your world but also connect with the other "Planet Talk" worlds created by other players.


 You can clear various events and get items until you reach the end of the story like a Role-playing game.

 Story is not only one, of course, more players make their planets, more various the stories get.

 There is no goal in this game. Some planets hold its residents, and all they do is just talking.

 Other planets might be tic-tac-toe like a puzzle, action-packed, or thrilling worlds.
 All you do is just enjoy various unique worlds.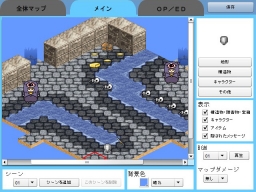 You can create your world easily by managing the editor.

 You can express yourself by using your characters.

 Of course, you can have your friends and family members on your planet.

 The planet can be anything. Some might want to create a homey and joking one, others might want one with an ambitious story.

 Let's get yourself registered and become a member of Planet Talk!

 Once you finish user registration, you can save your planet, your favorite planets, and also have your planet shown by other users.

 If you want your planet just for yourself to see, you can keep it private and take time to nurture it.



 You can post the game on your blog. Your friends will love to see it.
 You can create and save maximum number of 30 games. This allows you to describe as much of yourself as you want.

 Are you ready to play your Planet Talk now?